Countertops
Visit Anderson Carpet One Floor & Home today for all of your countertop needs. Anderson's represents the most trustworthy names in the countertop industry. Coupled with our complimentary interior design service, you'll know you made the right decision.
Laminates
The least expensive choice, sometimes called "Formica", are not as hard as stone or tile and are easier to scratch, cut or burn. One advantage is that dishes or glasses dropped on them are not as likely to break and they are easy to clean.
Ceramic Tile
These come in a wide variety of sizes, shapes, colors and grades. Matte finishes will stain and pot marks more easily than glossy surfaces. Glossy surfaces show scratches more than matte surfaces. Light colors show less scratching than dark colors. Tile can be installed in a variety of distinctive patterns and shapes and also allows you to incorporate decorative tiles for the backsplash to enhance the beauty and aesthetics of the kitchen.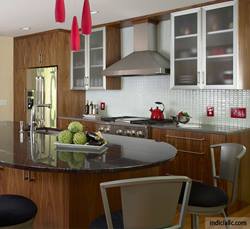 Engineered Stone
There is a new material with the advantages of granite called "engineered stone" or simply "quartz". It has the hardness of real quartz, which is harder than granite, is non-porous, it does not stain, and is highly heat resistant.
Real Stone
Granite is the usual stone selected for kitchen countertops because of its hardness. Since the material is rock, the coloration is consistent all the way through so it is possible to work out surface scratches and even shallow chips.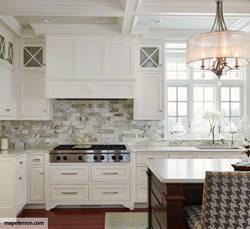 Solid Surface Materials
Dupont's Corian is one of the best known solid surface countertops. The all-acrylic counters tend to be more durable, are non-porous, do not stain, and are highly heat resistant.